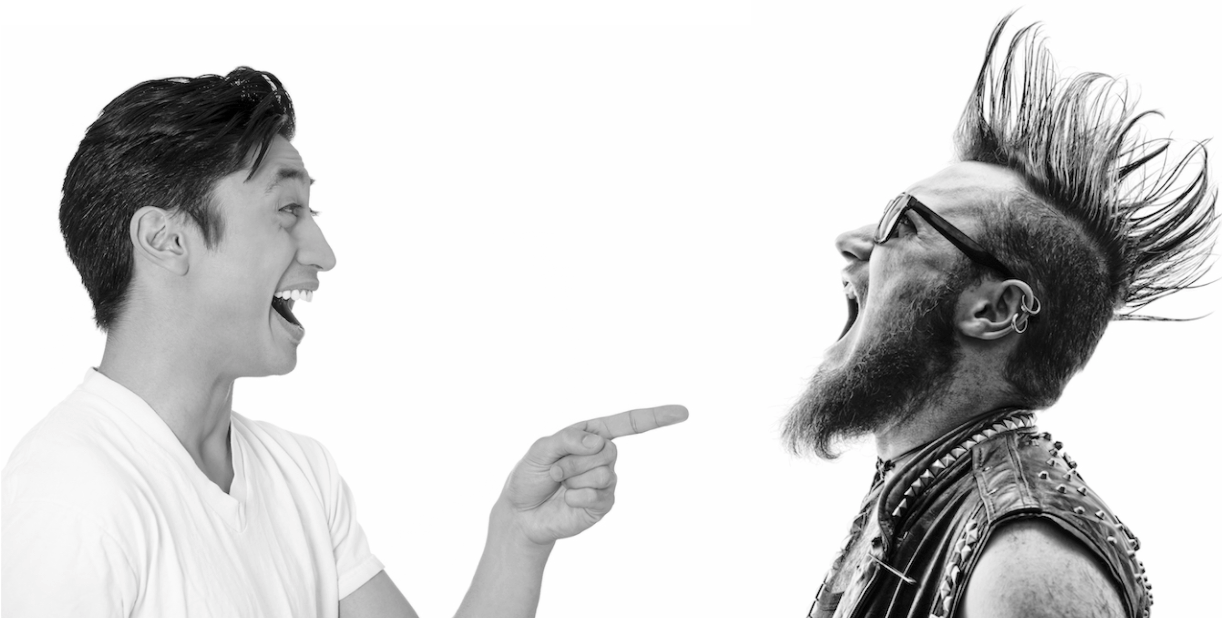 Collaborating or working together, the TEAMconnect model allows participants – within or outside of their own team or organisation – who are characterised by diversified interests and diverge opinions or whose experience increased emotions for whatever reasons, to enter a dialogue with each other. And we with them.
Ultimately, the quality of the interaction determines the level of the collaboration and the performance. The management and employees jointly facilitate the right circumstances and are the drive wheel of their own actions. Collaborating is realising jointly, based on mutual vision and values and psychological safety; towards a 'secure base'. In order to make nearly everything open to discussion.
Optimisation in strengthening the working relationships plus a positive work environment is realised based on a circular route with 4 specific combined skills.
We talk How to carry out discussions that achieve goals?
Accent > Effect Addressing each other, expressing yourself and agree together > Transition to a long-term dialogue
We feedforward How to go back when a dialogue gets bogged down?
Accent > Effect Provide useful, positive reaction about areas of improvement > Create a future-oriented response culture
We influence: How to influence positively instead speaking offensively?
Accent > Effect Influencing attitude and conduct at work > Creating a base for breaching stubborn behaviour or blockages that sustain resistance to change
We realize How do we work on joint objectives?
Accent > Effect Agility, taking initiative and a drive for performance > Responsibility for the solidarity towards the here-and-now situation with an eye on the future
Measurements, such as the Q4 DISC personality and behaviour profile, provide further insight into personal motives, communication and behaviour styles, in order to ultimately highlight and optimise the dynamics within the team.
Portfolio
Customized: consultancy, training, (team) coaching from personal development, leadership, management, entrepreneurship by communication, influencing and cooperation for A & O Services, Aces Direct, Achmea | Interpolis, Adecco Group Netherlands, Agis NV, Air Traffic Control The Netherlands (LVNL), Albert Heijn, Alliander NV, Ambulance services, Ananz, Antoon Schellens Highschool, APG Group, ARCO Solutions, ARS Traffic & Transport Technology, ASR Insurance, AXA Winterthur Switzerland, Tax Authority Netherlands, Beter Bed, BOBA, Bosch Netherlands, C & A Netherlands, Bilfinger Real Estate, CED Group, Centric, CPS Case Packing Systems, DBT Group, De Jong Gortema Algra Architects, De Poorter Temporary Employment, Delta Lloyd Amsterdam, DELTA Industrial Cleaning, DossierNet, Dutch Association for Market Managers, eBay, ECS European Containers Services, Energetica Natura Benelux, Enexis Netherlands, Enexis Essential Facilities Real Estate, Essent The Netherlands, Euro Cross Assistance, Flower Council of Holland, Flowserve, Formafoam, Fortis, GE Healthcare, GBIO, Giant Europe, Giralis, Global Paint Products BV, Glorieux Park, GNT International, Golf & Country Liemeer, Group2000, Gunnebo International, Heijmans Bouw, Herbalife International, Heuschen & Schrouff Oriental Foods Trading, Hoffmann, Hopital St. Anna Geldrop, Hopital Franciscus Roosendaal, HTM Passenger NV, Hulskamp Audiovisual, HZ University of Applied Sciences, Inside Secure, IGZ, Intervet (MSD), Into Switzerland, Intopack B.V., JAD The Netherlands, Jeths Building Aircraft Cleaning, JongeOndernemersOpPad (JOOP), Jonker Petfood, KDV Tourmaline, Kobefab International, Koti, Kuypers Kessel, Leisure Management The Netherlands, Louise Vivensis, Members Spa & Beauty Group Netherlands, Ministry of Defence, Ministery of Security and Justice, Ministery of Public Health Welfare and Sports – MN Services, Mobility Centre West Brabant, Modiform, Monuta, Morgan Stanley Real Estate Fund (MSREF), MSD Animal Health Netherlands, MSD bioMérieux bv, Municipality CGM, Municipality Heerlen, Municipality Oss, Municipality Sittard-Geleen, Nationale Nederlanden NV, NCOI Group/Academy Hilversum, Nij Geertgen, Nora Biscuits, NS (Corporate Legal), NUON – Vattenfall Netherlands, NVM, ONB Regional Expertise Centre, ONVZ Health Care, OOM The Netherlands, Ordina NV, Ormco Europe BV, P. Hoenderop, Pantar Amsterdam, PCM Publisher, Performa, Police South Netherlands, Princen Group Netherlands, Prochamp, Rabobank Limburg, Rabobank Groene Woud Zuid, Rabobank Maashorst, Rabobank Nijmegen, Rabobank Oss, Rapport BV, Renewi, Rijkswaterstaat – Ministry of Infrastructure and the Environment, Zeeland, RWE Group, Salarispoint, Sara Lee Douwe Egberts, Scheldebouw – Permasteelisa Group, SDW Rotterdam, Shimano Europe Holding, Schouten & Nelissen, Schule Mühleturnen, Schuttelaar & partners, SECO Tools (Jabro), Silicon Hive BV, Sligro Food Group, Smurfit Kappa Vanga, Sonoco Plastics, STN Telecom, Internet, TAQA Energy, Technical University TU/e Eindhoven, Tesla Motors The Netherlands, Theatre Lievekamp Oss, Unigarant Insurance, United Footwear Group, UWV Workforce, Van Arkel bailiff, Van Dijk Education, Van Haare & Partners Accountants, Van der Velden Sewerage Maintenance, Van 't Hof Rijnland Real Estate, Vaeshartelt, Vivisol, Regional Water Authorities Roer & Maas and Scheldestromen, Royal Steensma, Vekoma Rides Manufacturing, VSR Pipeline renovation, Wärtsilä The Netherlands, Wilting Components, Wooninc, Xycarb Ceramics, ZEKER Financial Concerns, Zorggroep Rijnmond.