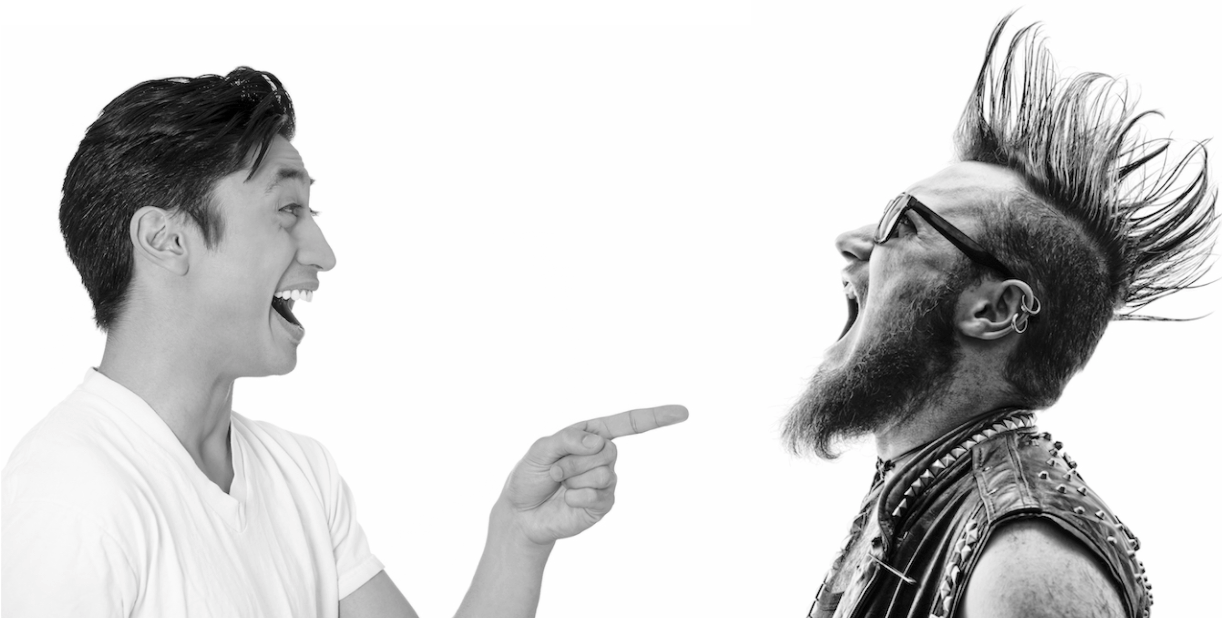 Zusammenarbeiten oder zusammen Arbeiten – das Arbeitsmodell TEAMconnect lässt die Beteiligten (inner- oder außerhalb des eigenen Teams oder der Organisation) mit vielfältigen Interessen, auseinanderstrebenden Meinungen oder hochkochenden Emotionen miteinander ins Gespräch kommen. Und wir mit ihnen.
Die Qualität des Austausches bestimmt letztlich das Niveau der Zusammenarbeit und der Leistungen. Das Management und die Mitarbeiter schaffen sich gemeinsam die richtigen Bedingungen und bestimmen ihr Vorgehen selbst. Zusammenarbeiten heißt zusammen Realisieren: aufgrund einer geteilten Vision und mit psychologischer Sicherheit, für eine sichere Basis. Um praktisch alles zur Sprache bringen zu können.
Auf der Grundlage einer zirkulären Route mit vier kombinierten Fähigkeiten werden die Arbeitsbeziehungen gestärkt und positive Arbeitsbedingungen geschaffen.
Wir reden Wie führen wir Gespräche, um Ziele zu erreichen?
Akzent > Lerneffekt Einander ansprechen, sich aussprechen, sich absprechen > Übergang zu einem dauerhaften Dialog
Wir spiegeln Wie nehmen wir Gespräche wieder auf, nachdem diese festgefahren scheinen?
Akzent > Lerneffekt Nützliche, positive Reaktionen über Verbesserungswürdiges geben > Schaffung einer zukunftsorientierten Ansprechkultur
Wir beeinflussen Wie beeinflussen wir positiv und vermeiden wir verletzendes Besserwissertum?
Akzent > Lerneffekt Haltung und (Arbeits-)Verhalten beeinflussen > Schaffung von Rückhalt, um hartnäckiges Verhalten oder Blockaden zu durchbrechen, die Widerstand gegen Veränderungen zementieren
Wir realisieren Wie arbeiten wir an gemeinsamen Zielen?
Akzent > Lerneffekt Gewandtheit, Initiative ergreifen, Leistungsdrang > Verantwortlichkeit aufgrund der Bindung an das Jetzt unter Berücksichtigung der Zukunft
Messungen wie das persolog©-Persönlichkeits- und VerhaltensProfil verschaffen weitere Einblicke in die persönliche Motivation sowie in Kommunikations- und Verhaltensstile, um solcherart die Dynamik in einem Team herauszuarbeiten und dann zu optimieren.
Portfolio
Kundenspezifisch: Beratung, Training, (Team) Coaching auf persönliche Entwicklung, Führung, Management, Unternehmertum zu Kommunikation, Beeinflussung und Zusammenarbeit für A & O Services, Aces Direct, Achmea | Interpolis, Adecco Group Netherlands, Agis NV, Albert Heijn, Alliander NV, Ambulance services, Ananz, Antoon Schellens Highschool, APG Group, ARCO Solutions, ARS Traffic & Transport Technology, ASR Insurance, AXA Winterthur, Tax Authority Netherlands, Beter Bed, BOBA, Bosch Netherlands, C & A Netherlands, Bilfinger Real Estate, CED Group, Centric, CPS Case Packing Systems, DBT Group, De Jong Gortema Algra Architects, De Poorter Temporary Employment, Delta Lloyd Amsterdam, DELTA Industrial Cleaning, DossierNet, Dutch Association for Market Managers, eBay, ECS European Containers Services, Energetica Natura Benelux, Enexis Netherlands, Enexis Essential Facilities Real Estate, Essent The Netherlands, Euro Cross Assistance, Flower Council of Holland, Flowserve BV, Formafoam BV, Fortis, GE Healthcare, GBIO, Giant Europe, Giralis, Global Paint Products BV, Glorieux Park, GNT International BV, Golf & Country Liemeer, Group2000, Gunnebo International BV, Heijmans Bouw, Herbalife International, Heuschen & Schrouff Oriental Foods Trading, Hoffmann, Hopital St. Anna Geldrop, Hopital Franciscus Roosendaal, HTM Passenger NV, Hulskamp Audiovisual, HZ University of Applied Sciences, Inside Secure, IGZ, Intervet (MSD), Into Switzerland, Intopack BV, JAD The Netherlands, Jeths Building Aircraft Cleaning, JongeOndernemersOpPad (JOOP), Jonker Petfood, KDV Tourmaline, Kobefab International, Koti, Kuypers Kessel, Leisure Management The Netherlands, Louise Vivensis, Luftverkehrskontrolle Niederlande (LVNL), Members Spa & Beauty Group Netherlands, Ministry of Defence, Ministery of Security and Justice, Ministery of Public Health Welfare and Sports, MN Services, Mobility Centre West Brabant, Modiform, Monuta, Morgan Stanley Real Estate Fund (MSREF), MSD Animal Health Netherlands, MSD bioMérieux, Municipality CGM, Municipality Heerlen, Municipality Oss, Municipality Sittard-Geleen, Nationale Nederlanden NV, NCOI Group/Academy Hilversum, Nij Geertgen, Nora Biscuits, NS (Corporate Legal), NUON – Vattenfall, NVM, ONB Regional Expertise Centre, ONVZ Health Care, OOM The Netherlands, Ordina NV, Ormco Europe, P. Hoenderop, Pantar Amsterdam, PCM Publisher, Performa, Police South Netherlands, Princen Group Netherlands, Prochamp, Rabobank Limburg, Rabobank Groene Woud Zuid, Rabobank Maashorst, Rabobank Nijmegen, Rabobank Oss, Rapport, Renewi, Royal Steensma, Rijkswaterstaat – Ministry of Infrastructure and the Environment, Zeeland, RWE Group, Salarispoint, Sara Lee Douwe Egberts, Scheldebouw – Permasteelisa Group, SDW Rotterdam, Shimano Europe Holding, Schouten & Nelissen, Schule Mühleturnen, Schuttelaar & partners, SECO Tools (Jabro), Silicon Hive, Sligro Food Group, Smurfit Kappa Vanga, Sonoco Plastics, STN Telecom & Internet, TAQA Energy, Technical University TU/e Eindhoven, Tesla Motors The Netherlands, Theatre Lievekamp Oss, Unigarant Insurance, United Footwear Group, UWV Workforce, Van Arkel Gerichtsvollzieher, Van Dijk Education BV, Van Haare & Vaeshartelt, Partners Accountants, Van der Velden Sewerage Maintenance, Van 't Hof Rijnland Real Estate, Vivisol, Regional Water Authorities Roer & Maas and Scheldestromen, Vekoma Rides Manufacturing, VSR-Rohrsanierung GmbH, Wärtsilä The Netherlands, Wilting Components, Wooninc, Xycarb Ceramics BV, ZEKER Financial Concerns, Zorggroep Rijnmond.